The OSF Playbook: A Journey to Investing in Future Sci-Tech
The OSF Playbook: A Journey to Investing in Future Sci-Tech
Identifying the Biggest Risks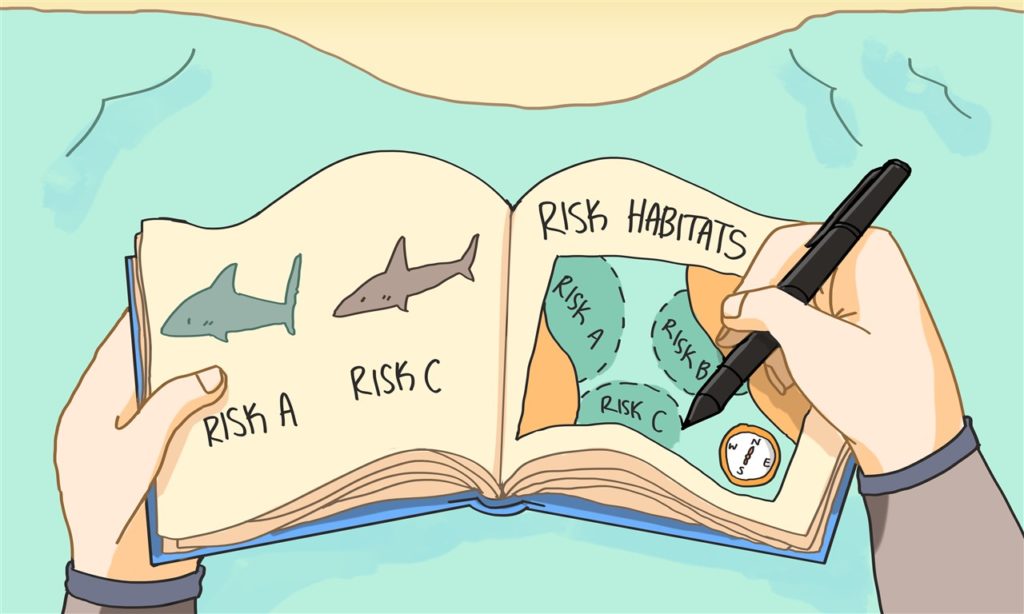 To identify which factors have the most impact on returns, we performed a sensitivity analysis by varying  one factor at a time across the low-to-high range while keeping all other factors at their base case level. Sensitivity analysis is another key model output that goes hand-in-hand with ERM and allows us to prioritize the diligence checklist.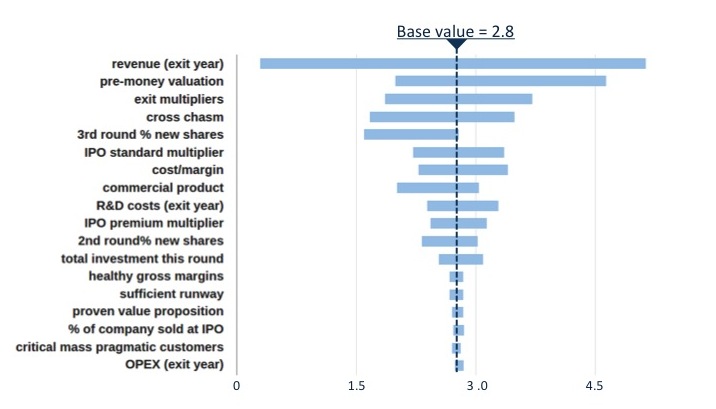 Factors directly affecting valuation at exit had the most influence on returns, as seen in Figure 4. These included revenue in the exit year and any debt at that point, as well as market conditions affecting multipliers used for valuation. Similarly, factors affecting investor equity and its dilution were critical, including pre-money valuation, investment this round, and percentage of new shares in subsequent rounds.
On the technology front, the highest ranked factors were: cost/margin,commercial product, and R&D costs (Figure 4). The attractive cost/margin factor is critical for synthetic biology to replace existing manufacturing methods, and is heavily determined by the technology itself. The high rank of the commercial product factor is consistent with our diligence findings that the greatest technological risk was likely in scaling up from bench to commercial volumes. And finally, R&D costs in the exit year were important because they directly affect exit year earnings, which affect valuation.
For a synthetic biology company like the test company, maintaining a strong intellectual property position via R&D is critical to staying competitive in the long term. However, the model emphasized that R&D costs can also impact the ability to raise more capital via an IPO. Therefore, the company will need to balance R&D spending with demonstrating strong earnings for a successful IPO.
By identifying the most significant technical risk factors, we were able to identify the areas that most deserved investment of due-diligence resources. For example, we devoted additional resources to investigate manufacturing scale-up. Our domain experts pressed for more detailed technical information during the due-diligence process. The company was able to demonstrate that they had invested carefully in solutions that would de-risk scale-up to commercial quantities, both by working with a well-known large-scale production facility and by hiring an expert with ample experience dealing with precisely that issue. Similarly, for each prioritized factor on the checklist, we were able to check which risk-mitigation efforts the company had put in place for that technical risk.
In the end, our model was actually the culmination of several preliminary models — taking the initial model framework and iteratively customizing it for the individual company throughout the due-diligence process. We started with a more typical default revenue model for an early startup (Figure 2) and ended up with a model (Figures 4 and 5) that spoke specifically to the technical and financial risks of the test company. These different phases of modeling could almost be thought of as separate models that enable a more nimble, fox-like1 approach to decision analysis.
Seeing How Synthetic Biology Stacks Up
We compared our sensitivity analysis results to those from our reference example, Korver's decision-analysis model for e-textbook company Inkling. (Figure 5). Any comparison must acknowledge the challenge that the models were created with different methods and assumptions.  However, we found broad similarities and differences between the different domains (software vs. synthetic biology) reflected in the models.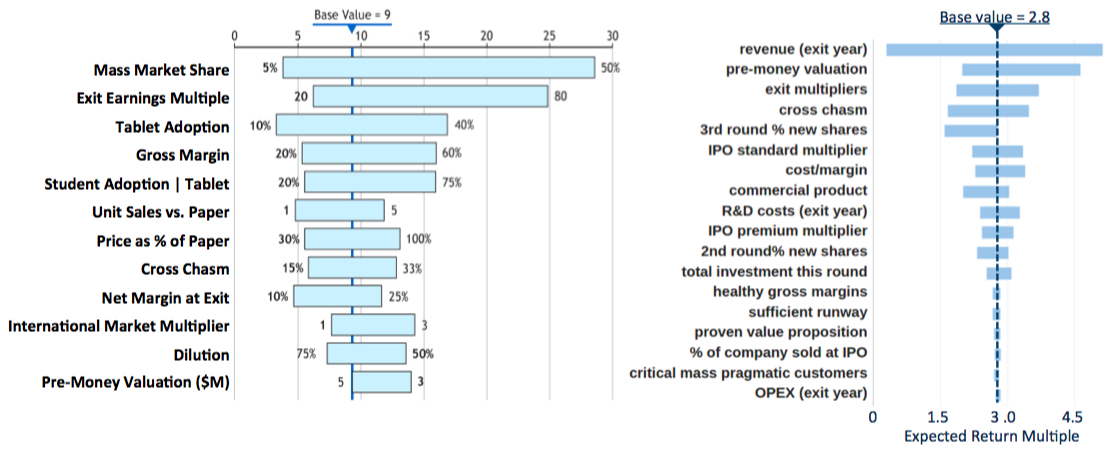 One similarity was that for both models, the top 12 factors (out of dozens) exerted the vast majority of influence on the results, with the remaining factors having weak-to-no influence. These significant factors included revenue just prior to exit (similar to Korver's mass market share), margins, crossing the chasm,2 and exit multipliers.
However there were also key differences. First, the ERM for Korver's software company was much higher at 9, whereas our biotech company ERM was 2.8. This reflects general differences between typical software vs. biotech returns. (Note that 2.8 is the probability-weighted return, not the raw multiple on investment. Thus, the potential return is higher than 2.8x in various scenarios.)
In addition, in Korver's model for Inkling, factors measuring and influencing mass consumer adoption were critical (e.g., adoption of tablets, adoption by students with tablets), whereas for our case, the critical factor was "commercial product" — the ability to demonstrate commercially scaled-up manufacturing, increasing the appeal to early mainstream B2B customers.  
All but one ('cross chasm') of Inkling's top 12 factors were primarily market side and financial factors, whereas three of our factors ('cost/margin', 'commercial product' and 'R&D costs (exit year)') heavily involved technology outcomes. These differences emphasize the importance of building a custom model for each company and domain and also illustrate the benefits of comparing models.
This is a reference to the fox / hedgehog categorization of thinking styles: "The fox knows many things, the hedgehog knows one big thing." Philip Tetlock has done research showing that people with fox-type thinking, who are self-critical and open to simultaneously considering many angles on a problem, had better judgement about the long-term future. Tetlock, "Defining and Assessing Good Judgement" http://www.sas.upenn.edu/tetlock/publications ↩
Geoffrey Moore, Crossing the Chasm: Marketing and Selling High-Tech Products to Mainstream Customers (New York: Harper Business Essentials, 1999) ↩
---